Spanish Ballerina Sara Calero's Supersmart Fandango By The Italian Composer Boccherini
Overview
This is possibly unique among the 1000 or so YouTubes of the Boccherini fandango. Not only does Sara excel with the castanets, she adds to the percussion by stomping with her shoes.
This is kind of a flamenco move and she does both really well.
Below is an equally unusual version: it tells a wordless tale in opulent surroundings as you can see, with the fandango dance there but more in the background. This video is excerpts from the Spanish film "Goya in Bordeaux":.


ABT's Absolutely Jawdropping "Of Love And Rage" At Lincoln Center
Review: Lincoln Center June 2022
We caught this on Saturday June 22, the last day at Lincoln Center. What a sleeper - there is only this one performance video online (dance starts at 0.43). Had we first caught it on Monday we'd have bought tickets for the rest of the week. It is an absolute jaw-dropper. Everything about it works. Story? Wow. Choreography? Wow. The two leads? Wow. Sets? Wow. Costumes? Wow. Lighting? Wow. Male and female corps? Wow, wow, wow, they seemed thrilled out of their skulls to be kept so busy. There are often up to 50 dancers onstage all at once. You haven't lived until you have seen that.
Just amazing that Khachaturian's flamboyant works have never been adapted for a major ballet before. His music here, in part from his 1942 ballet Gayane, unknown in the US, is so energetic under Ormsby with a fine orchestra that you will emerge from the theater 5 pounds lighter. The story is complex and there are many feuds and love-scenes. Rarely if ever has a female lead been at the epicenter of so many goings-on. Her arc sure is busy: intensely revered, she is married, then dead, then pregnant, then fought for and fought for right to the very moving happy end.
This really merits to be ABT's long-waited flagship, and to be put on every summer season. Please, dear ABT, get some ensemble performance YouTubes online like yesterday - well, two weeks ago.
Read Alastair Macauley here. Read Gia Kourlas here. Read Marina Harss here. Read Victoria Looseleaf here. Read Jerry Hochman here. Read Nadia Vostrikov here. Read Haglund's Heel here. Read Nick Erickson here.
Commentary: There were too many empty seats Saturday, as another reviewer commented about Monday. ABT may wrongly feel discouraged. No need. Current leaders in modern ballet promotion, Russian companies & dancers and Royal Ballet, would produce and upload half a dozen videos on any new ballet weeks in advance. Videos of rehearsals, dancer interviews, sets, costumes, story-line… Video is a great low-cost investment - ABT might have pulled in an added 1/4 of a million dollars on this ballet alone.
Below: nice video chat 2020 pre-COVID but sells it short.
A Royal Ballet Daily Class At The Royal Opera House
This realtime video of a live class is one hour and 15 minutes long
Why Do We Doubt There Is Ever Less Work In Making A Tutu Than This?!
This tutu was made by YouTube video poster HikariHime29. She made this one to wear to a Lady Gaga concert, not to dance Odile, but we are told that she knows what she is doing. This below is a video of New York City Ballet's costume shop. Go, Hikari…


Ballet Favorites Of Video Posters And Watchers: Take A Look At Polina Seminova
Ballet In Strange Places: "Camellias" Creator John Neumeier's Hamburg Ballet
The Royal Ballet's "How Ballet Evolved: The First Four Centuries"
First 3D Ballet In Movie Theaters In The US - Giselle By The Mariinsky
Our Review

First viewing at the noon showing was somehow less than we expected - and at 7:30 we found out why. At noon, the audience was quite small (three dozen) and we were all bunched up in the front one-third of the seating. That seemed the best place to be for the 3D.

But at 7:30 the theater was mostly full when we arrived (several hundred) and we ended up in the center, two rows from the back. At that distance and height, the full 3D effect cuts in, and many of the scenes are absolutely breathtaking. Not least Natasha Osipova, light as a feather and really living her part, in extreme close-up.

The shots of the spirits in 3D in the white scenes (you can see one in 2D in the video below) had some in the audience saying "wow!". Best camera angle seemed to us to be from the orchestra seats, which was the angle about half the time. The other half it was was up in first or second tier, and that tended to diminish the dancers, and produce some odd perspectives.

Leads and corps excellent, costumes very nice, sets okay, lighting and sound might have been enhanced. But for ballet, brilliant potential. Roll on, new ballet DVDs and YouTubes all in 3D. We'd be surprised if it takes more than 3 years.
London's Royal Ballet: Some Highlights Of Being A Principal
Ballet In Strange Places: The Anaheim Ballet In Anaheim East of Los Angeles
Ballet In Strange Places: An English National Ballet Swan Lake In The Gardens Of Versailles
Ballet In Strange Places: Angel Corella's Corella Ballet In Segovia North of Madrid
How Ballet Set Changes Work: The Bolshoi At Chapel Hill, North Carolina
Tutus: There's Been No Other Garment Like Them In History…
Quick - Very Quick - Tour Of The Backstage Of London's Royal Opera House
(Images) First Major Royal Ballet Global Ballet Simulcast, And English National Ballet Simul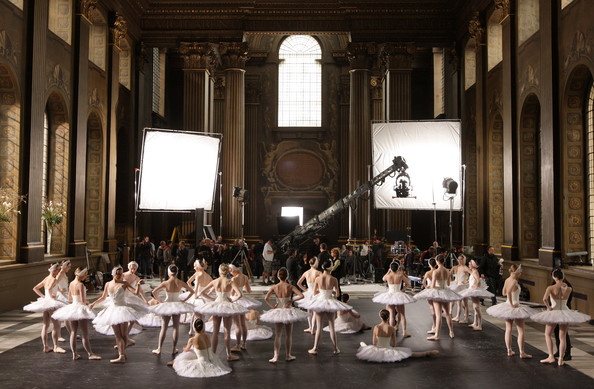 The Royal Ballet first transmitted live ballets to theaters in 25 US states. They included The Sleeping Beauty, Romeo and Juliet, and Tales of Beatrix Potter.
And a year ago (the images here) Sky Television filmed a performance of Swan Lake by the English National Ballet in 3D in the Painted Hall of the Old Royal Naval College, Greenwich.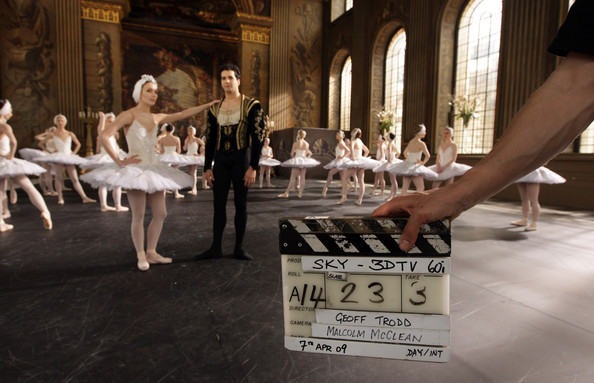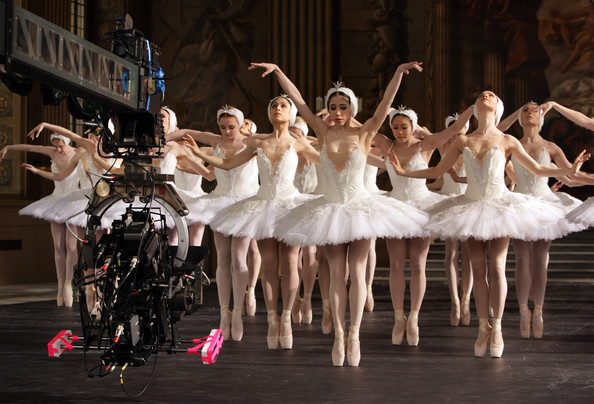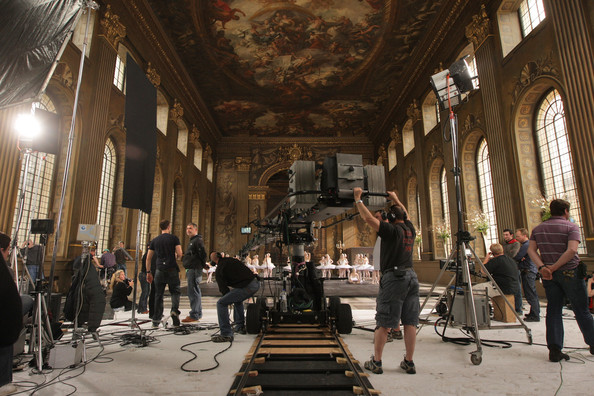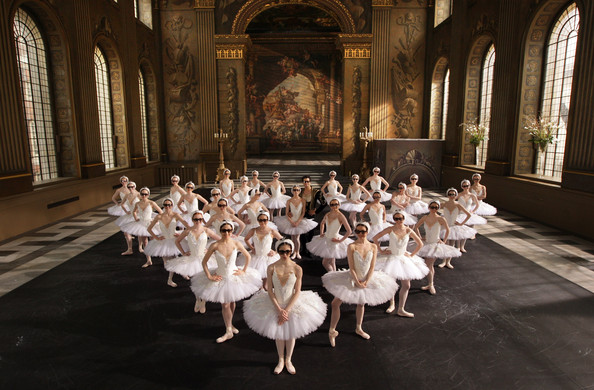 The ballet was filmed using two of Sky's high definition cameras, with the two lenses recording separate footage for each eye. Viewers then wear special polarising glasses which give the impression the ballet is in three dimensions.
The 24 corps ballerinas wearing those 3-D glasses is a joke, of course. Get to watch the Swan Lake white scenes in 3-D? Wow. That would be a sight to behold. We will keep an eye out for any possible showing in the US.
By the way, the Mariinsky and Paris Opera Ballet use 32 ballerinas in La Bayadere's Kingdom Of The Shades and the effect is quite awesome. Perhaps Kevin McKenzie might be persuaded to do the same?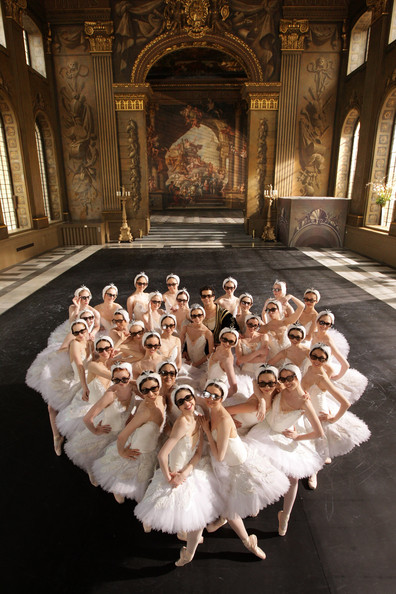 Ballet Favorites Of Video Posters And Watchers: Take A Look At Alessandra Ferri
Alessandra Ferri, then a principal with the ABT, and a favorite partner of Julio Bocca and Roberto Bolle, is seen here with British pop singer Sting.
At 2.4 million looks (end of 2021) this seems for now the most-watched solo video of an ABT dancer. And her Carmen pas de deux seems the most-watched duet.
In Central Park, A New Guinness Record: Most Ballerinas On Pointe At One Time
Above: A compelling video report by the New York Post which shows Michele Wiles and Craig Salstein of the ABT
The videos below are for two of the earlier Guinness records, 191 and 220 ballerinas on pointe, and if there is a video put online for the previous record (226) and today's new new record, we will post those as well.
1) Here combined with the largest-ever class, in Pretoria, South Africa, 18 November 2007 (191)
2) The Youth America Grand Prix competitors here in Manhattan on 18 May 2009 (220)
It's Catching! The Wonderful New Water Ballet, Right Where The ABT Performs
Lincoln Center Season Over The ABT Heads For Los Angeles: Moods Of That City